NEWS!!
Ecotherapy Pilot Program Begins
Ecotherapy is available to 8th and 9th grade (ages 14- 15) students at Aloney Yitzchak. Approximately 15 students are participating, led by the expert goatherd. The results so far are promising.
School Wins Award of Excellence
The junior and senior high schools were selected as one of 270 schools to receive the "School of Excellence Award" from the Ministry of Education. The award is based on Academic Achievement, Values, and Social Cohesion.
New Academic Tracks Opened: Computer Engineering, Communications/ Film
Village Agriculture Program Wins National Prize
September 2016 the Village received a national award for its "green" aspects. The Village was recognized for its "Maintenance and development of its ancient oak trees, and integrating agriculture and ecology into the residential life, theoretic and practical academics, and daily life at the highest possible level."
President Rivlin awarded the "Outstanding Soldier" award to Aloney Yitzchak graduate Emmanuel Mizdarchi! Emmanuel made Aliyah from South America with his family, graduating Aloney Yitzchak three years ago. He is one of only 120 soldiers awarded this honor -- at the Independence Day Ceremony at the home of the President of Israel.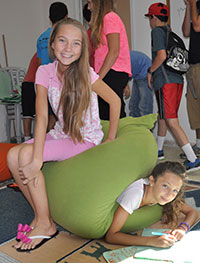 Graduate Housing for Lone Soldiers
who are Village graduates just completed its first year of serving alumni, most of whom are in the Army and have no family in the country! Already there is a long waiting list. In partnership with the
International Fellowship for Christians and Jews
there is now modest housing on campus for two female and two male graduates who have no family to live with. The Village also supports graduates in other ways: advocating for them with the Army, offering partial college scholarships, inviting them for holidays, and nurturing and assisting them in other ways.
Interdisciplinary Studies are now taking place in the school.
Friday evening and Havdalah services are now being held in the Village´s new (as of October 18, 2015) synagogue.